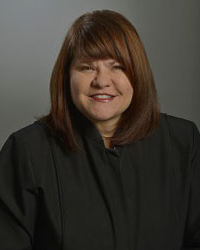 Name: Lynda F. Jones
LMT Class: 2018
County: Davidson
Employment: Metropolitan Government General Sessions Court Div. IX
This Metro Nashville General Sessions Judge enjoys "the law, policy, collaboration, and service."
About: I was born in Ohio and raised in Bristol, TN, a proud graduate of public schools. I became enamored with the law after reading A Native Son and To Kill a Mockingbird. Around the same time, I experienced a field trip to the local Blountville TN courthouse in Sullivan County. I won the mock trial contest my teacher arranged and got goosebumps from head to toe when I won the verdict. I was the first in my family to attend a 4-year college. I decided at age 17 that I wanted to be a lawyer. That was 40 years ago. I've never looked back. I enjoy the law, policy, collaboration and service.
Favorite LMT experience: The friendships of course. I loved learning about the economies of our middle Tennessee region.
Regional Interest: Affordable housing, a need here and across the nation.
Advice for 13-year old self: That everyone has a battle of some kind in life. Always be kind to everyone.
Last Time You Were Surprised: Recently. I was invited to step into a leadership role in a judge's conference where I am a new member.