Business Partners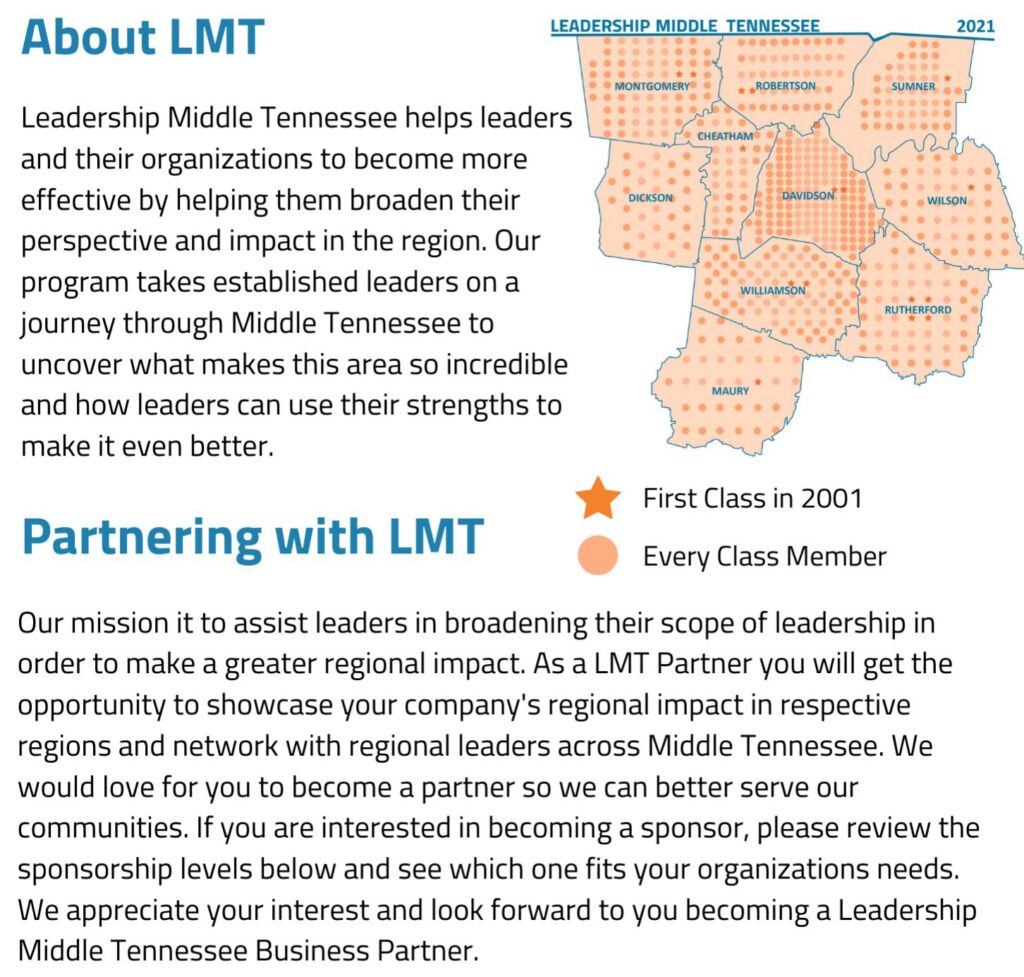 Become a Middle Tennessee LMT Business Partner
Do you want to strengthen your business' footprint across the Middle Tennessee region?  Become a business partner and connect with LMT's large cadre of leaders across the ten-county area. 
Effective each July 1, we offer one-year partnerships at varying levels (Platinum, Gold, Silver and Bronze). These are offered on a first-come, first-served basis. Partnership levels and benefits are as follows:
For more information concerning the LMT Business Partner Program or to become a sponsor, please contact Lee Rucks or president@Leadmt.org. Alumni who give $2,500 and above, become a Business Partner.
Platinum – $10,000 (All Sessions)
*Limited to 4 industry exclusive partners; first come, first served
All Perks of Gold, Silver, and Bronze, plus…

Attendance of 2 representatives at the annual opening Reception. Includes short announcement, logo signage, and marketing materials to attendees.
Acknowledgment as a sponsor during all 10 sessions and all alumni events
Provide promotional materials in class gifts during each session
Gold – $7,500 (Choose 4 Sessions)
All perks of Silver and Bronze, plus…

Recognition in the invitation for the New Class Kick off mailed to the Alumni of LMT
Recognition during LMT CLass Kick off dinner and LMT Commencement
4 invitations to attend all Alumni Events (3-4/year)
Provide one article to be posted on leadmt.org about products or services offered by the company
Silver – $5,000 (Choose 2 Sessions)
All perks of Bronze, plus…

Recognition during LMT Class Kick off reception in August
Option to host and attend LMT alumni event
2 invitations to attend all Alumni Events (3-4/year)
Company logo and your website URL located on website
 Bronze – $2,500 (Choose 1 Session)
Invitation for one to attend all Alumni Events (3-4/year)

Name recognition on website
Recognition on all LMT Business Partner correspondence via social media
Invitation to the Business Partner Appreciation Breakfast in the Spring